For Lions Clubs
Successful Chicago businessman Melvin Jones wanted to give back to his community. In 1917, his dream became a reality. The first "Association of Lions Clubs" held its meeting in Chicago, Illinois, encouraging unselfish service to others.
In 1925, Helen Keller was at the Lions Club International Convention and challenged the organization to become "Knights of the Blind."
Today, Lions Clubs all over the world provide community service to millions of people. The top three programs emphasize:
Join the Kids Eyes Count Campaign
The Kids Eyes Count Campaign is an excellent opportunity for your Lions Club to fulfill its mission and help many children.
The National Eye Institute reports: Vision disorders are the most prevalent handicapping condition in childhood. However, fewer than 15% of all preschool children receive an eye examination.
How your Lions Club can help
Support Vision First Foundation and the Kids Eyes Count Campaign. Vision First is a 501(c)(3) non-profit public charity.
Inform your local schools that your Lions Club joined the campaign. Encourage your local schools to join, too.
Approve the Vision First documents for distribution. Your Lions Club name can be added to all Vision First materials approved for distribution.
Donate the cost of an eye examination and eyeglasses to families in need.
Print and distribute the Vision First fact sheets to local clinics and businesses in your community.
Display a vision screening disclaimer for the public's view when your Lions Club conducts vision screenings.
Remember, vision screening is not a substitute for an eye examination.
Make a difference in the eyes of a child. Join the campaign today.
Downers Grove Noon Lions Club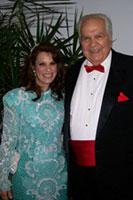 Vision First Foundation joined the Downers Grove Noon Lions Club in celebrating 80 years of community service on April 27, 2007. As the first benefit for Vision First Foundation, it was a tremendous success for our new organization. Read more...
Parents confused
"As a retired optometrist who practiced for over fifty years, I have witnessed a decline in children's eye care due to vision screenings.
Before vision screenings, optometrists' offices were busy everyday taking care of children. However, when Illinois mandated vision screenings in 1969, the children stopped coming. Parents became confused and didn't think comprehensive examinations were necessary anymore since schools were providing free vision screenings.
Unfortunately, many children with eye and vision problems were missed by these vision screenings and those that failed sometimes took a year or two for their follow-up appointment.
It's time for change. The eye doctor provides the best care."
Floyd Mizener, OD, PhD, DOS
Past President, Illinois Optometric Association
Vice-President, Vision First Foundation