Vision and Child Development
Vision is learned. Many vision skills are involved in the learning process. These vision skills can be practiced and improved.
Here is a brief summary of ideas to help a child's vision skills develop faster and better.
From birth to six months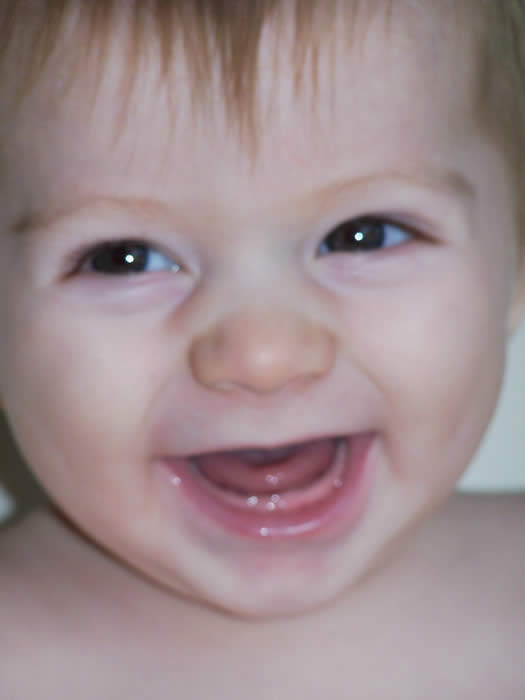 A pediatrician or family doctor should examine a baby's eyes at birth and during routine health check-ups for signs of congenital eye problems. Even though these cases are rare, early diagnosis and treatment is critical to a baby's visual development.
Babies are not born with 20/20 vision. For the first 6-8 weeks of life, a baby's eyes do not focus well. A baby's hand-eye coordination and depth perception begin to develop.
Change baby's position in the crib and alternate feeding positions.

Provide brightly colored toys and books that squeak.

Play "peek-a-boo" and "patty cake."
From six to twelve months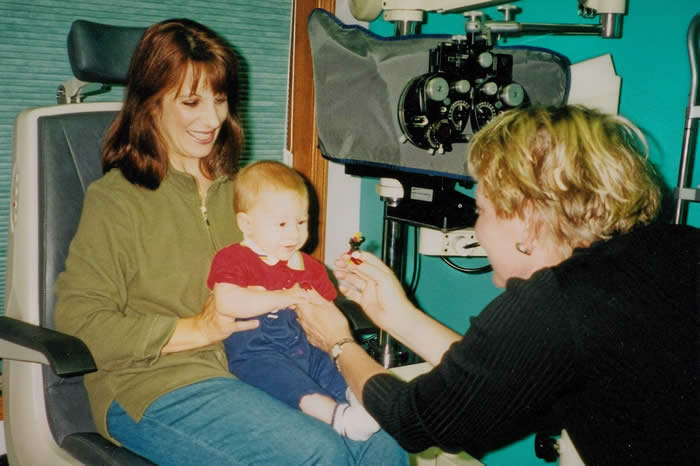 The American Optometric Association recommends all babies be examined by an optometrist between the ages of 6-12 months to ensure healthy eyes and normal visual development.
A baby uses the hands and mouth to explore his environment. The baby is also using both eyes together to judge distances.
Provide plenty of stacking and take-apart toys.

Play "roll the ball" and "peek-a-boo.
From one to three years
A child is interested in exploring the environment. Eye-hand coordination and depth perception become well developed. Begin providing many experiences at the zoo, playground, pool, and water park.
Choose toys carefully. Provide building blocks, special books, and riding toys that are pushed with the feet.

Provide opportunities for the child to safely scribble and finger paint.

Avoid TV, video games, and computer time.
The preschool years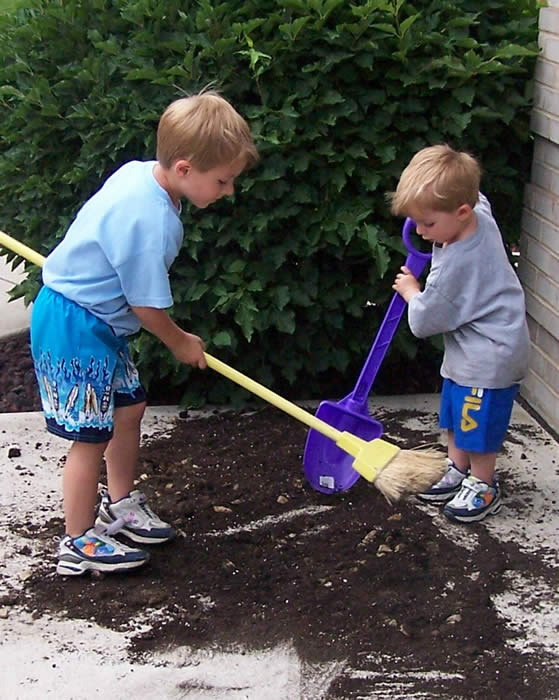 The American Optometric Association recommends a comprehensive eye and vision examination by an optometrist for all children entering preschool or at age three. It is estimated that one-in-twenty preschoolers have a vision problem.
A preschooler is learning how to use vision for other learning experiences. Continue providing many visits to the zoo, playground, pool, or water park.
Encourage climbing, jumping, and walking the balance beam.
Read daily to your child and discuss the book or story.
Avoid or strictly limit TV, video games, and computer time.
The school-aged years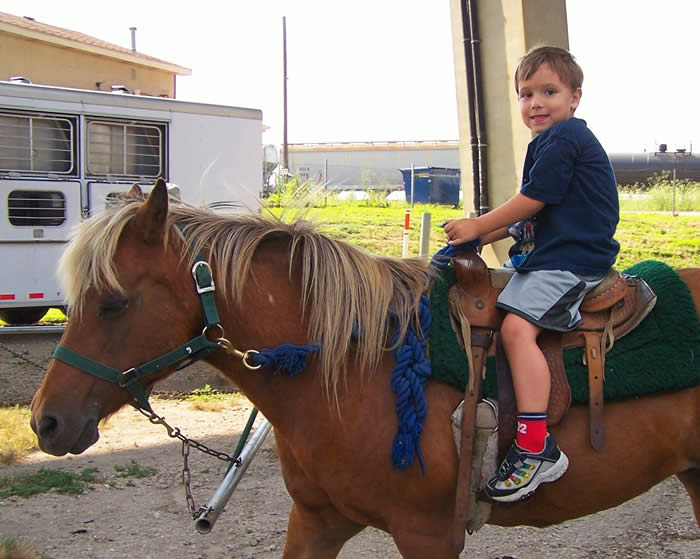 The American Optometric Association recommends a comprehensive eye exam by an optometrist for all children entering kindergarten, or age five, and regularly throughout the school-aged years. It is estimated that one-in-four children have a vision problem.
A child's visionl skills continue developing during the school-aged years. Continue providing many experiences and games that encourage and support the development of visual skills.
Healthy eyes and good vision are essential to a child's success in school.
Encourage active and creative play indoors and outdoors.
Encourage reading at least 20 minutes everyday.
Limit TV, video games, and computer time.
Vision is integral to the whole child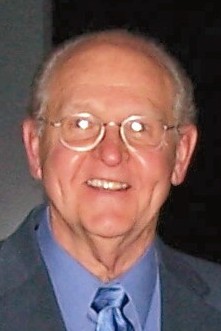 "We know from the many observations of children's visual performance and the work of Arnold Gesell, MD at the Yale Institute of Child Development, that Dr. Gesell said: 'Vision is not a separate isolated function; it is profoundly integrated with the total action system of the child, his/her posture, manual skill, motor sets, intelligence, and even personality traits. Vision is so intimately identified with the whole child that we cannot understand it without considering the whole child.'
This is why the work of Vision First is so vital to our children's welfare. With the myriad of health issues confronting the parent, knowledge of the impact of vision in the learning process needs to be the priority."
Albert A. Bucar, OD, DOS, FAAO
Past President, Illinois Optometric Association
Past President, American Optometric Association
President, Ophthalmic Education Institute
Vision First Honorary Board Member
Recommended article
TV or Not TV, Is that the Question? "One of my favorite New Yorker magazine cartoons shows a toddler in a playpen watching TV through the bars. The room is bare. NO humans are in view. No furniture or other objects can be seen. There is a balloon over the child's head depicting what he or she is visualizing. There is a TV with bars in front of it. This, to me, is a perfect illustration of how "television has stolen the night"—the stultifying effect that excessive TV watching has on our children's visual imagination and creativity.
Recommended websites
College of Optometrists in Vision Development

The mission of the College of Optometrists in Vision Development is to serve as an advocate for comprehensive vision care emphasizing a developmental and behavioral approach. COVD certifies professional competency in vision therapy, serves as an informational and educational resource, and advances research and clinical care in vision development and therapy. Check out the helpful doctor locator to find an optometrist in your area who is certified by COVD.
InfantSEE Do you have a baby between 6-12 months of age? If yes, then take advantage of your child's first eye appointment at no cost to you. This program is offered by volunteer optometrists of the American Optometric Association.
LimiTV LimiTV is a non-profit organization dedicated to improving children's learning and health. LimiTV informs informs parents, educators, and children about the ways excessive TV watching can compromise early childhood development, hinder learning, adversely affect health, and stimulate aggressive behavior. This website has excellent articles and alternative activities to support a parent's decision to limit screen time for children.